Hello! I'm Mohammed, an MS Computer Security student at RIT. I regard myself as a security researcher. I'm interested in both the defensive and offensive sides of security. In my free time, I document the things I learn and share them on this blog and my social media accounts. I'm human; I make mistakes. If you find something that's wrong or have recommendations, I will appreciate it if you tell me.
Competitions:
Member of RITSEC (Formerly RC3 and SPARSA).
6th place in the country, Nationals CCDC, Windows IR, Blue Team, Spring 2020 - link1
Led RIT Vulnerability Assessment and Pentesting (RVAPT) interest club, Fall 2020.
Red Team Competitor with RIT RedTeam, 2019 - present.
IRSec Competition, Red Team, Spring 2019.
University of Buffalo Lockdown, Red team, Fall and Spring of 2019.
Information Security Talent Search, Blue Team, Spring 2019.
CPTC, White Team, Fall 2018.
IRSec Competition, Gray Team, Spring 2018.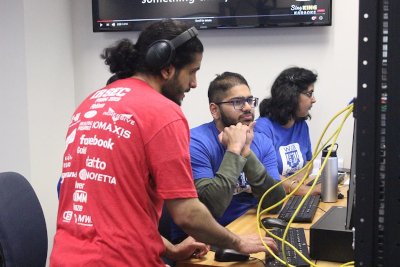 Contact info
PGP Public Key:
-----BEGIN PGP PUBLIC KEY BLOCK-----

iQE2BCABCAAgFiEEOvwgQyL4GLEb5II7nvzRvZ4iLssFAl6K/aQCHQAACgkQnvzR
vZ4iLsvpHAf/ZVgxTEx9Smv0T9V8IvMN0sYeS/1+0xH/G9Md+8I8wEp/Wf7JDEFj
E/PskSOfxd34DiTZzIe3xN+EQ5Sk8QIc4vJ8vLQXGG4VdoYgmuAsJS7sHFlvAGdt
DVbpY3uGPfU/8PD2LF9QCjtM4Lt/N82ODcIhC/fLYACE1a6j0OuIQkTJW/qRtg0K
sK6LOHkZHF7CQyhCx1TFfrkhpxjmnK+rh6HMYnCfcTIvg5V93wwOcIC6m7bfxiV7
MWXhggOG1XUsdAjRPLHZroDj7K/NpzPGtue9rjoev+9DKxZEWRSeWCGpWV9mn1es
mD2aKYwZ3a0bLnpXc+auAnBh3hdtTd/8cQ==
=E5SJ
-----END PGP PUBLIC KEY BLOCK-----